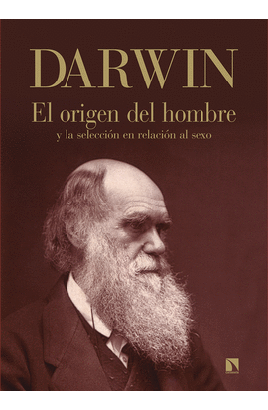 Add to favourites
EL ORIGEN DEL HOMBRE Y LA SELECCIÓN EN RELACIÓN AL SEXO
LOS SERVICIOS SOCIALES EN EL PAÍS VASCO
VAT included
For your convenience, you can request the collection of this copy at any of our physical stores. The information on availability in e-commerce does not imply the existence of physical stock in the store.
To check the stock in a physical store, you can contact any of our stores.
Status: Available for online purchase
Description
Con la publicación en 1871 de The Descent of Man, and Selection in Relation to Sex (El origen del hombre y la selección en relación al sexo) Charles Darwin culminaba la exposición pública de su teoría de la evolución. En esta obra Darwin presenta sus ideas sobre l a evolución humana, el lugar de la humanidad en la naturaleza, las estrechas relaciones biológicas con los parientes primates no hum anos y la importancia de la evolución sexual. Su tesis primordial fue que los humanos compartían con los otros primates atributos es tructurales y físicos, conclusión a la que llegó basándose en datos extraídos de estudios de anatomía comparada, fisiología y embrio logía. Adelantándose a los debates sobre la cuna de la humanidad, Darwin sugirió en su libro que nuestros primeros ancestros habían vivido en el continente africano, conjetura que sería confirmada en el siglo XX por los descubrimientos de la paleoantropología. Dar win concluía su libro afirmando que de todas las causas que habían llevado a las diferencias de los aspectos externos entre las esti rpes humanas, y en cierta medida entre éstas y los animales inferiores, la más eficaz había sido la selección sexual.