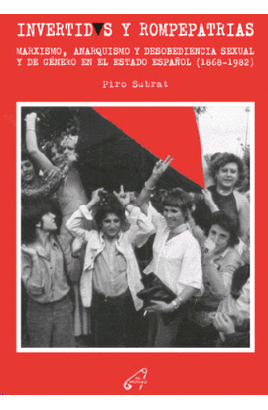 Add to favourites
INVERTIDOS Y ROMPEPATRIAS
MARXISMO, ANARQUISMO Y DESOBEDIENCIA SEXUAL Y DE GÉNERO EN EL ESTADO ESPAÑOL (1868-1982)
VAT included
For your convenience, you can request the collection of this copy at any of our physical stores. The information on availability in e-commerce does not imply the existence of physical stock in the store.
To check the stock in a physical store, you can contact any of our stores.
Status: Available for online purchase
Description
¿Ha sido la izquierda históricamente tan tolerante con la homosexualidad como se piensa? ¿Qué le aportó en épocas de absoluto rechaz o a nivel social? ¿Qué le ha diferenciado de la derecha en ese punto? ¿Cuál fue su postura al respecto frente a la inusitada represi ón que llevó a cabo el franquismo? ¿Fue unánime su apoyo al nuevo movimiento gay una vez muerto el dictador? ¿El movimiento LGTB s iempre ha permanecido al margen del resto de luchas, como a veces parece traducirse de su deriva actual, o hubo sectores muy represe ntativos del mismo que lucharon por algo más que por sus derechos, mejoras legales y beneficios institucionales en los convulsos año s de la llamada Transición e incluso más allá? ¿Qué papel tuvo la existencia de una lucha antifranquista organizada de cara a la c reación de los primeros movimientos de liberación (homo)sexual? ¿Han sido gays masculinos de clase media-alta provenientes de partid os de izquierda quienes engrosaron sus filas principalmente, o hubo todo un mundo paralelo de travestis, maricas con pluma, elemento s radicales y algunos de los primeros grupos de lesbianas autónomas a quienes la historiografía ha relegado a un plano secundario o directamente ha invisibilizado?