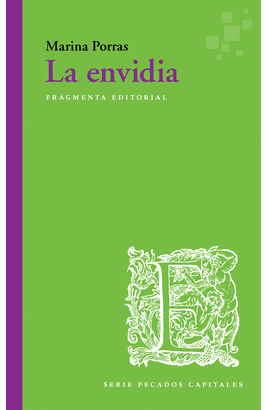 Add to favourites
LA ENVIDIA
PECATS CAPITALS 2
VAT included
For your convenience, you can request the collection of this copy at any of our physical stores. The information on availability in e-commerce does not imply the existence of physical stock in the store.
To check the stock in a physical store, you can contact any of our stores.
Status: With stock
Description
La envidia es relacional y relativa, necesita de los otros para existir. Si estamos manchados por la envidia, lo que tenemos o lo qu e somos se mide a partir del valor del otro y, cuanto más cerca estamos de lo que envidiamos, más fuerte es la pulsión. Todo, en est e pecado, empieza en los ojos.Si la envidia provoca una apatía que lleva hacia la nada, los celos nos llevan hacia la ansiedad más o bsesiva. Si la envidia nace del deseo de tener lo que no poseemos, los celos nacen del miedo a perder lo que ya se tiene.Marina Porr as se aproxima a la envidia a través de grandes voces de la literatura (Dante, Cervantes, La Rochefoucauld, Austen, Balzac, Proust, Valéry, Faulkner, Pla, Rodoreda, Ferrater), sin olvidar los cuentos tradicionales ni las aportaciones de la filosofía (Kant, Kierkeg aard, Nietzsche).La serie «Pecados capitales» pretende ofrecer una visión fresca y rigurosa de cada «pecado» de la mano de jóvenes e nsayistas.