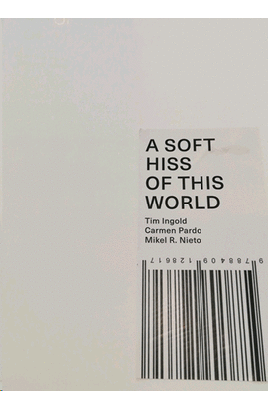 Add to favourites
A SOFT HISS OF THIS WORLD
VAT included
For your convenience, you can request the collection of this copy at any of our physical stores. The information on availability in e-commerce does not imply the existence of physical stock in the store.
To check the stock in a physical store, you can contact any of our stores.
Status: With stock
Description
Este proyecto investiga la pe´rdida de lenguaje como consecuencia del Antropoceno a trave´s de la ausencia de ciertos estados y proc esos que se dan de manera natural en el medio ambiente como son los distintos estados del agua, de la nieve y del hielo. En finés ex isten más de cuarenta términos* para referirse a los mismos y tomando estas palabras como punto de partida para la investigación, es te proyecto recogerá en sonido el mayor número de estos procesos naturales poniendo de manifiesto la ausencia de los mismos o la imp osibilidad de grabarlos por su inexistencia o extinción.Por lo tanto, los copos de nieve serán la materia sonora de este proyecto y para obtener este sonido, así como las posibles diferencias sonoras entre cada copo de nieve, se desarrollarán materiales especiales y específicos para este proceso de grabación tan especial. Es sabido que en el Artico, las personas pueden ver y oír cosas que no e n otros lugares del planeta son imposibles. Estos fenómenos están causados por condiciones atmosféricas especiales y algunas persona s en estas latitudes han descrito algunos sonidos que sucedieron a enormes distancias o sonidos de una delicadeza extrema.