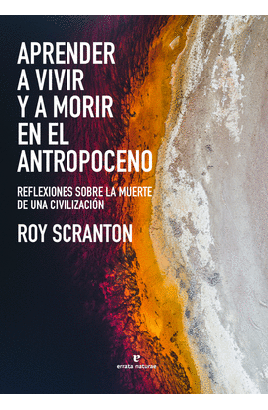 Add to favourites
APRENDER A VIVIR Y A MORIR EN EL ANTROPOCENO
REFLEXIONES SOBRE LA MUERTE DE UNA CIVILIZACIÓN
VAT included
For your convenience, you can request the collection of this copy at any of our physical stores. The information on availability in e-commerce does not imply the existence of physical stock in the store.
To check the stock in a physical store, you can contact any of our stores.
Status: Available for online purchase
Description
Tras años en el frente luchando contra ISIS, Roy Scranton pensó que había dejado atrás ese mundo vertebrado por la idea de la lucha y la supervivencia. Pero no. La actual pandemia y las que vendrán, o las condiciones meteorológicas extremas, ponen en peligro los s uministros en todo el mundo. El cambio climático provocado por nosotros supone un riesgo no sólo para la estabilidad política y econ ómica, sino para la civilización. El Antropoceno exige una nueva visión radical de la vida humana. Scranton combina la investigación periodística y la reflexión filosófica para explorar lo que significa ser humanos, un viaje a través de las protestas callejeras, l os descubrimientos científicos o la vitalidad de la literatura antigua para tratar de responder a esto: ¿cómo aprender a vivir en un a civilización que podría estar atisbando su hundimiento?