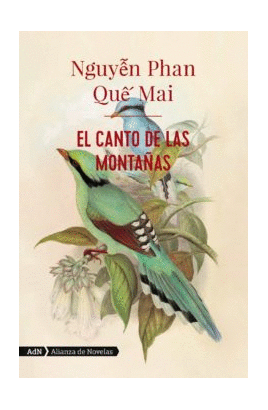 Add to favourites
EL CANTO DE LAS MONTAÑAS
VAT included
For your convenience, you can request the collection of this copy at any of our physical stores. The information on availability in e-commerce does not imply the existence of physical stock in the store.
To check the stock in a physical store, you can contact any of our stores.
Status: Available for online purchase
Description
La novela definitiva para entender la historia reciente de VietnamElcanto de las montañas cuenta una historia envolvente, que discurre através de varias generaciones de la familia Tran, con el telón de fondode la guerra de Vietnam. Tran Dieu Lan, nacida en 1920, se vio obligadaa huir de las tierras de su familia con cinco de sus seis hijos durantela reforma agraria, cuando el gobierno comunista se hizo con el poder enel norte del país. Años más tarde, en Hanói, su joven nieta, Huong,alcanza la madurez mientras sus padres y sus tíos avanzan por la sendaHo Chi Minh para luchar en un conflicto que desgarró no solo a suquerido país sino también asu familia. El canto de las montañas, primeranovela publicada en español de la reputada poeta vietnamita Nguyen PhanQue Mai, es un relato vivo y apasionante, impregnado del lenguaje y delas tradiciones de Vietnam. Ilumina el coste humano de este conflictodesde el punto de vista del propio pueblo vietnamita, a la vez que nosmuestra el verdadero poder de la bondad y la esperanza.