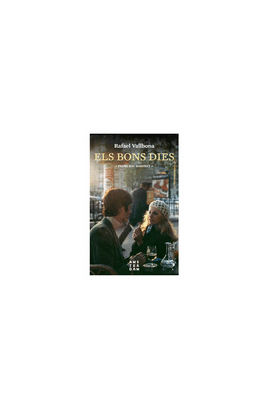 Add to favourites
ELS BONS DIES
PREMI ROC BORONAT 2019
VAT included
For your convenience, you can request the collection of this copy at any of our physical stores. The information on availability in e-commerce does not imply the existence of physical stock in the store.
To check the stock in a physical store, you can contact any of our stores.
Status: With stock
Description
Un retorn al temps que desapareix, i a l'idealisme de la joventut que ens fa creure en un món millor. Un cant a la memòria i a la ll ibertat.En Ricard viatja a París amb l'esperança de retrobar-hi un vell amic que el redimeixi del desconcert i la convulsió que l'of ega a la Barcelona del 2017. Més de trenta anys enrere, hi van anar junts fugint d'una Transició que suposava la renúncia als seus i deals, i allà van conèixer filòsofs d'esquerres, artistes bohemis i revolucionaris de cafè, que, com ells, lluitaven amb la força de la paraula per transformar el món. Per això, quan el destí els va separar i en Ricard va tornar a Barcelona, les inseguretats perso nals van aflorar en els dos amics. I els anys, el record de la misteriosa Jane i els viaranys per on ha portat la vida a tots els pe rsonatges, fan que en Ricard s'adoni que l'únic temps vàlid és el passat, que ens conforma la memòria, enfront d'un present que mor en ell mateix i d'un futur que no existeix fins que no s'esvaeix. Distingida amb el premi Roc Boronat, Els bons dies és un homenatge bell i sincer a les revolucions frustrades que tothom té, a les preguntes sense resposta, i una reivindicació de la memòria com a a utèntic instrument de transformació social.