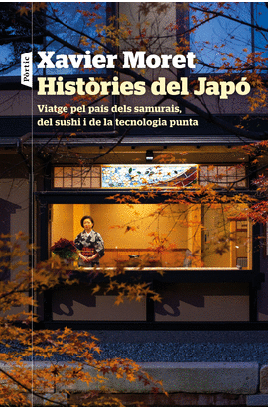 Add to favourites
HISTÒRIES DEL JAPÓ
VIATGE PER PAÍS DELS SAMURAIS, DEL SUSHI I DE LA TECNOLOGIA PUNTA
VAT included
For your convenience, you can request the collection of this copy at any of our physical stores. The information on availability in e-commerce does not imply the existence of physical stock in the store.
To check the stock in a physical store, you can contact any of our stores.
Status: Available for online purchase
Description
Al parc de Ueno, a Tòquio, hi ha una estàtua de Saigo Takamori, considerat l'últim samurai i el símbol de la defensa màxima de la tr adició. El 1873 es va fer l'harakiri a l'illa de Kyushu, després de perdre una batalla contra les tropes d'un govern que feia bander a de la modernitat.El Japó es una terra de contrastos entre la persistència gairebé sagrada del passat i la mirada curiosa al futur. La tecnologia punta i els gratacels conviuen amb la mentalitat samurai i els santuaris antics, on la naturalesa és venerada com un deu i la gastronomia s'esforça per assolir la perfecció. L'escriptor Xavier Moret descriu el País del Sol Naixent d'avui a partir de ls seus viatges per les tres grans illes (Honshu, Kyushu i Shikoku) i les seves estades a les ciutats principals (Tòquio, Kyoto i Os aka).Històries del Japó ofereix les claus per comprendre la cultura i la complexitat d'un país que cada dia fascina més a Occident.