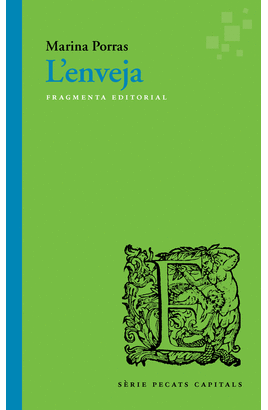 Add to favourites
L'ENVEJA
VAT included
For your convenience, you can request the collection of this copy at any of our physical stores. The information on availability in e-commerce does not imply the existence of physical stock in the store.
To check the stock in a physical store, you can contact any of our stores.
Status: Available for online purchase
Description
L'enveja és una mala mirada: una mirada rancorosa, plena de verí. És relacional i relativa, necessita els altres per existir. Si est em tacats per l'enveja, allò que tenim o allò que som es mesura a partir del valor de l'altre i, com més a prop som d'allò que enveg em, més forta es torna la pulsió. Tot en aquest pecat comença als ulls.Si l'enveja provoca una apatia que porta cap al no-res, la ge losia condueix cap a l'angoixa més obsessiva. Si l'enveja neix del desig de posseir allò que no posseïm, la gelosia neix de la por d e perdre allò que ja es té.Marina Porras s'aproxima a l'enveja a través de grans veus de la literatura (Dante, Cervantes, La Rochef oucauld, Austen, Balzac, Proust, Valéry, Faulkner, Pla, Rodoreda, Ferrater), sense oblidar la rondallística tradicional ni les aport acions de la filosofia (Kant, Kierkegaard, Nietzsche).La sèrie «Pecats capitals» pretén oferir una visió fresca i rigorosa de cada « pecat» de la mà de joves assagistes catalans.