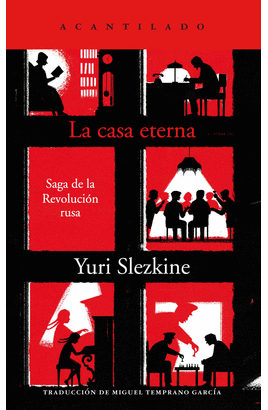 Add to favourites
LA CASA ETERNA
SAGA DE LA REVOLUCIÓN RUSA
VAT included
For your convenience, you can request the collection of this copy at any of our physical stores. The information on availability in e-commerce does not imply the existence of physical stock in the store.
To check the stock in a physical store, you can contact any of our stores.
Status: With stock
Description
Proyectada por el visionario arquitecto Borís Iofán e inaugurada en 1931, la Casa del Gobierno es un colosal edificio de más de quin ientos apartamentos que se alza en la orilla del río Moscova, delante del Kremlin, destinado en origen a alojar a los principales di rigentes e intelectuales soviéticos y a sus familias. Yuri Slezkine rastrea la historia de los devotos e ideólogos de la causa bolch evique que gobernaron la urss y terminaron convirtiéndose en víctimas de las purgas estalinistas. Un texto que combina hábilmente bi ografía, crítica literaria e historia con las fascinantes teorías sobre las revoluciones, las profecías milenaristas y las utopías. El resultado es el relato, en la tradición de Guerra y paz, Vida y destino y Archipiélago Gulag, de los avatares de los inquilinos d e un edificio que, como la propia Unión Soviética, fue un inquietante experimento humano y terminó habitado por los fantasmas de los desaparecidos que, pese a los empeños del régimen, jamás cayeron en el olvido.