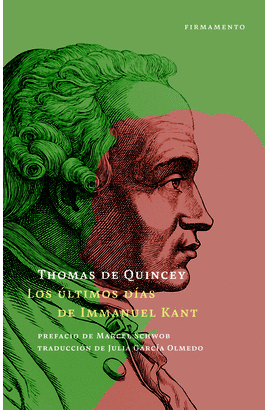 Add to favourites
LOS ÚLTIMOS DÍAS DE IMMANUEL KANT
VAT included
For your convenience, you can request the collection of this copy at any of our physical stores. The information on availability in e-commerce does not imply the existence of physical stock in the store.
To check the stock in a physical store, you can contact any of our stores.
Status: Available for online purchase
Description
Los últimos días de Immanuel Kant sigue siendo uno de los textos más singulares y elaborados de Thomas de Quincey. Gracias en buena medida a las memorias firmadas por Ehregott Wasianski, el ensayista inglés pudo prestar sus palabras al fiel amigo de Kant y relatar los últimos momentos del célebre filósofo ilustrado. Siguiendo meticulosamente el flujo de los acontecimientos, De Quincey nos da c uenta en sus páginas de las preocupaciones que invaden ahora a ese pobre espíritu en otro tiempo brillante. Atrapado por su vejez y por sus problemas de salud, el filósofo aparece retratado como un hombre agotado y enfermo.Sus pérdidas de memoria y de equilibrio a fligen a Wasianski, que intenta por todos los medios hacer su vida más llevadera hasta el último aliento. No hay que perder de vista , sin embargo, que, aun apoyándose en los testimonios de algunos de sus coetáneos, lo que De Quincey pone ante el lector es una obra de no ficción especulativa, sujeta a intromisiones discursivas y a sutilísimas desviaciones biográficas, y en la que la figura del filósofo es sublimada al tiempo que satirizada en sus facetas más íntimas. De esta mezcla de ironía y ternura termina por desprender se una profunda melancolía, la del tiempo que pasa y que destruye inexorablemente hasta las mentes más preclaras.