Under the artistic direction of Josep Maria Pou, major authors of the twentieth century and contemporary works are produced and exhibited, with the complicity of recognized national, state or world artists and with a line of programming basically in Catalan.
Founded in 1914, the Teatre Goya did not start its theatrical activity until 1916. Since then it has been a representative space of the city of Barcelona. In addition to serving as the headquarters of the Aragonese Center of Barcelona, as a theater it has hosted the first figures of the scene in the category of Margarita Xirgu. In the last period, the Goya have enjoyed great successes on the Barcelona billboard, such as those of Paco Moran, the sisters Gutiérrez Caba, Núria Espert, Maria Jesús Valdés, Àngels Gonyalons, Pepe Rubianes and a long list of great professionals. The will of the Grup Focus not to allow the emblematic centers of creation and diffusion of the city to be lost, has led it to fight for the recovery of the Teatre Goya, a theater with a strong personality that in 2004 had to close and that was point of disappearing. The theater bases its programming on an open and balanced repertoire, with special emphasis on its own production and collaboration between artists, companies and public and private institutions.
Share

Current promotions by TEATRE GOYA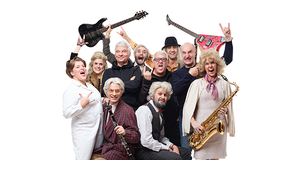 Promotion valid until 29/05/2022
FOREVER YOUNG al Teatre Poliorama
Una comèdia musical dirigida i adaptada per la companyia teatral TRICICLE i amb guió original de Erik Gedeon. Del 16 de març al 29 de maig de 2022.