The Teatre Victòria opened in 1905 at the hands of the Soriano brothers, originally known as the Soriano Pavilion or the "Suri". A space for variety shows, from Concha Velasco to Sara Montiel, through Mary Santpere or Barbara Rey. Artists such as Serrat, La Trinca, Peret and Joan Capri have also performed on stage.
Since 1986 it has been managed by Tres per 3, the union of the members of Dagoll Dagom, Tricicle and Anexa. In recent years, the Teatre Victòria has played such important musicals as Mar i Cel, Flor de Nit, Grease, Spamalot or La Família Irreal.
Share

Current promotions by TEATRE VICTÒRIA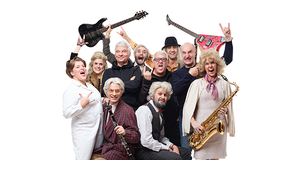 Promotion valid until 29/05/2022
FOREVER YOUNG al Teatre Poliorama
Una comèdia musical dirigida i adaptada per la companyia teatral TRICICLE i amb guió original de Erik Gedeon. Del 16 de març al 29 de maig de 2022.