03/10/2019
Touching color. The renewal of pastel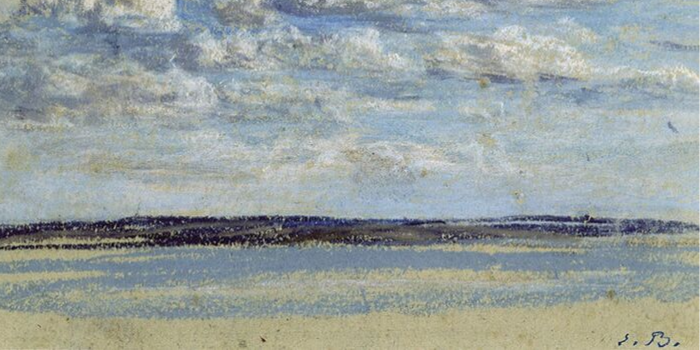 Fundación MAPFRE Barcelona, from October 3, 2019 to January 5, 2020.
Halfway between drawing and painting, this technique experienced a boom during the eighteenth century but always below oil painting, a technique considered superior. It was in the nineteenth century when it achieved some autonomy from painting.
Pastel is traditionally associated with women artists, who found in this technique a manageable and economical medium. For the ease of its outdoor use, the impressionists also used it.
The exhibition includes almost 100 works by 68 international artists: Eugène Boudin, Odilon Redon, Edgar Degas, Pablo Picasso, Joan Miró, María Blanchard, Alfred Sisley, Eugène Delacroix, André Masson and Claude Monet among others.
Below you will find the recommended bibliography and a selection of exclusive objects related to this exhibition.
Image: Eugène Boudin, Nuages blancs, ciel bleu [White clouds, blue sky], c. 1859. Musée Eugène Boudin, Honfleur © H. Brauner.