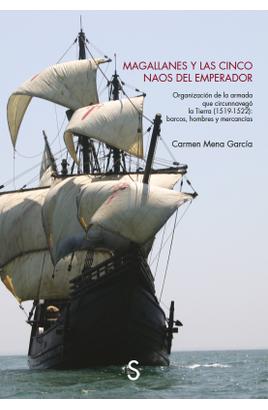 Add to favourites
MAGALLANES Y LAS CINCO NAOS DEL EMPERADOR
ORGANIZACIÓN DE LA ARMADA QUE CIRCUNNAVEGÓ LA TIERRA (1519-1522): BARCOS, HOMBRES Y MERCANCÍAS
VAT included
Buy it now and we will send it to you when we have stock. The charge to your account will be made only when the product is shipped.
Status: Available for online purchase 4-5 days
Description
Con sobradas razones los contemporáneos consideraron que el viaje de Fernando de Magallanes y Juan Sebastián del Cano, que logró cir cunnavegar el globo (1519-1522), había sido uno de los más transcendentales acontecimientos en la historia de las exploraciones regi strado hasta entonces. Además de descubrir que existía un estrecho o paso marítimo en el extremo más meridional del continente ameri cano, la expedición recorrió los tres grandes océanos del planeta, demostrando que el mundo era mucho mayor de lo que se pensaba ent onces.Esta obra analiza minuciosamente la organización de aquella famosa flota y los esfuerzos de la Casa sevillana por equiparla ad ecuadamente para un viaje de dos años con barcos, tripulaciones, vituallas, instrumentos náuticos, mercancías, armas y municiones, m edicinas y un sinfín de objetos de todo tipo. Con rigor histórico y prosa muy amena, la autora nos sumerge en aquella admirable aven tura con un relato cargado de emociones, destinado a gente curiosa que ama la Historia.