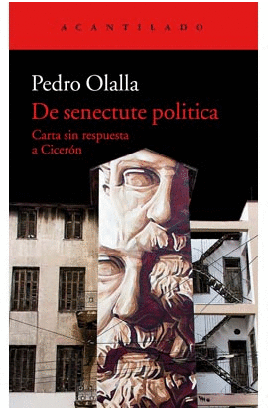 Add to favourites
DE SENECTUTE POLITICA
CARTA SIN RESPUESTA A CICERÓN
VAT included
For your convenience, you can request the collection of this copy at any of our physical stores. The information on availability in e-commerce does not imply the existence of physical stock in the store.
To check the stock in a physical store, you can contact any of our stores.
Status: With stock
Description
«Es precisamente esa otra consolación ante la vejez [...] lo que me mueve a mí [...] a dirigirte ahora esta larga misiva desde Atena s. [...] Tú has dejado claro en tu obra, al hablarnos de que las dificultades de la vejez no provienen tanto de la edad como del car ácter y de la actitud vital de las personas, que envejecer es, en un alto grado, un empeño ético/ y yo deseo ahora que reflexionemos sobre si el hecho de que nuestra sociedad esté o no organizada y facultada para posibilitar dicho empeño no hace del envejecer, tam bién, un propósito político». La senectud ha existido desde que el hombre existe/ pero, a diferencia de lo que ocurría en tiempos de Cicerón, nuestras sociedades han perdido la capacidad de pensar en la vejez sin asociarla a la decrepitud. En esta carta sin respue sta, Pedro Olalla entabla un vívido diálogo con un pensador de la Antigu?edad tan comprometido con el destino de su comunidad como é l y, con ello, prueba hasta qué punto el paso del tiempo no siempre significa decadencia.