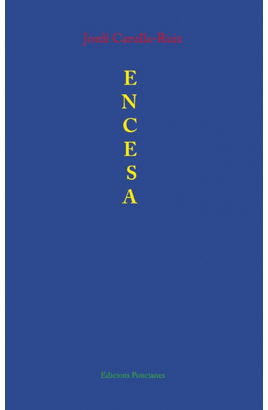 Add to favourites
ENCESA
VAT included
For your convenience, you can request the collection of this copy at any of our physical stores. The information on availability in e-commerce does not imply the existence of physical stock in the store.
To check the stock in a physical store, you can contact any of our stores.
Status: With stock
Description
Encesa és el tercer poemari de Jordi Carulla-Ruiz, autor de Lescorça i la mel (Fonoll, 2008) i Neu Or negre (Edicions Poncianes, 2012). Després de set anys, Carulla presenta una quarantena de poemes i diversos textos que configuren un univers personal i una tra jectòria vital, esquitxats de fotografies que els fan companyia i els complementen.Encesa està compost per tres moviments. El primer és un recull de moments mirall, guspires de sentit, moments de somni compartit.En un segon pas del viatge pel propi laberint, a Enc esa II shi obre el record original del fet de néixer, la primera remembrança, en lhàbitat del record trobat on es configura el pro pi relat, la llum com a record, el cos com a memòria o foscor on inscriures. Poemes hologrames dins de lhabitacle-casa del cos.De linstant exterior a linstant interior, que sols és possible per lencesa de la llanterna del cor, que a la fi es dóna a Encesa III .