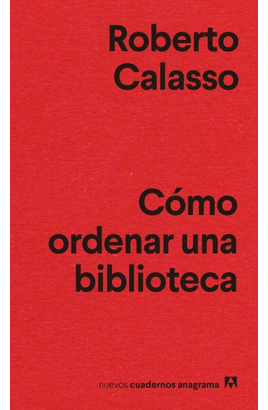 Add to favourites
CÓMO ORDENAR UNA BIBLIOTECA
VAT included
For your convenience, you can request the collection of this copy at any of our physical stores. The information on availability in e-commerce does not imply the existence of physical stock in the store.
To check the stock in a physical store, you can contact any of our stores.
Status: Available for online purchase
Description
Una lúcida y erudita reflexión sobre la relación que establecemos con los libros desde todos los puntos de vista imaginables.¿Qué cr iterio presupone el ordenamiento y la disposición de los libros? Según el editor Roberto Calasso, autor de una de las obras más ambi ciosas e inclasificables de la literatura contemporánea, aquel que intenta ordenar los diversos volúmenes que integran su biblioteca debe a la vez reconocer y transformar buena parte del mapa mental de sus preferencias y pasiones, enfrentándose a toda clase de so rpresas y sin poder esperar soluciones claras.Lejos de decretar un método de clasificación bibliográfica, el autor ofrece una visió n íntima y personal de esa tiránica pasión a la que llamamos bibliofilia. Escrito con una exquisita erudición y una tendencia fascin ante al orden centrífugo, Cómo ordenar una biblioteca es una auténtica lección no solo sobre cómo ordenar, sino sobre cómo editar, escribir, comprar, vender y, sobre todo, leer los libros.