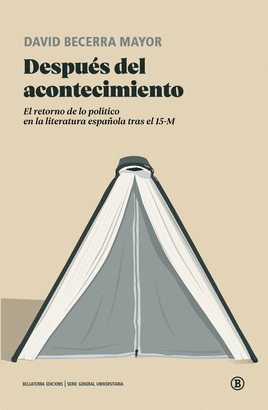 Add to favourites
DESPUÉS DEL ACONTECIMIENTO
EL RETORNO DE LO POLÍTICO EN LA LITERATURA ESPAÑOLA TRAS EL 15-M
VAT included
For your convenience, you can request the collection of this copy at any of our physical stores. The information on availability in e-commerce does not imply the existence of physical stock in the store.
To check the stock in a physical store, you can contact any of our stores.
Status: Available for online purchase
Description
«Becerra emplea a fondo las armas de la crítica marxista, que algunos querrían arrinconar en el desván, pero en este ensayo se muest ran relucientes y bien afiladas.» Isaac Rosa La crisis económica y, especialmente, el acontecimiento del 15-M abrieron fisuras en e l inconsciente ideológico. Las contradicciones que la ideología se encargaba de armonizar y cohesionar de pronto empezaron a tensars e. Tras la imagen del yo-libre empezó a asomar, cada vez con más urgencia, el rostro real del yo-explotado. La ideología se iba resq uebrajando y por entre las grietas se anunciaba la posibilidad de construir un mundo alternativo, otras formas de relacionarse, de o rganizarse, de vivir, de pensar. Y, por supuesto, una literatura otra que, a diferencia de la que había hegemonizado el campo españo l hasta la fecha, no desplazara las contradicciones, sino que las enunciara como preámbulo de su estallido, del que pudiera emerger un mundo libre y sin explotación.