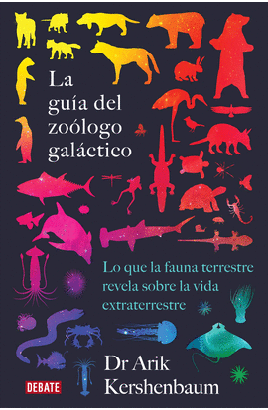 Add to favourites
LA GUÍA DEL ZOÓLOGO GALÁCTICO
LO QUE LA FAUNA TERRESTRE REVELA SOBRE LA VIDA EXTRATERRESTRE
VAT included
For your convenience, you can request the collection of this copy at any of our physical stores. The information on availability in e-commerce does not imply the existence of physical stock in the store.
To check the stock in a physical store, you can contact any of our stores.
Status: Available for online purchase
Description
¿Es posible saber cómo es realmente la vida extraterrestre?Descubre cómo funciona realmente la vida, tanto en la Tierra como en el e spacio.Los científicos están convencidos de que hay vida en el espacio exterior. Sin embargo, nuestra visión de lo «extraterrestre» está demasiado influenciada por los clichés hollywoodienses. Ha llegado el momento de abandonar nuestra fijación por los monstruos y basar nuestras expectativas en cimientos científicos sólidos. Partiendo de sus conocimientos sobre la vida en la Tierra y la teoría evolutiva de Darwin, el zoólogo de Cambridge Arik Kershenbaum nos explica en este asombroso libro cómo podría ser la vida alienígen a. De qué modo podrían comunicarse mediante impulsos eléctricos, o qué condiciones serían necesarias para que en la evolución no se hubiera impuesto la simetría son dos de los muchos interrogantes que resuelve: ¿puede haber un planeta con animales supersónicos? ¿C hillarán de miedo, jurarán decir toda la verdad, o poseerán una tecnología avanzada? En esta entretenida y absorbente guía zoológica Kershenbaum usa los últimos descubrimientos científicos para abordar una de las cuestiones más fascinantes que se plantea el ser hu mano.