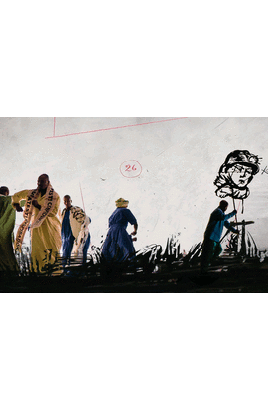 Add to favourites
MORE SWEETLY PLAY THE DANCE
CATÀLEG DE L'EXPOSICIÓ "EL QUE NO ESTÀ DIBUIXAT" AL CCCB
VAT included
For your convenience, you can request the collection of this copy at any of our physical stores. The information on availability in e-commerce does not imply the existence of physical stock in the store.
To check the stock in a physical store, you can contact any of our stores.
Status: Available for online purchase
Description
Lartista sud-africà William Kentridge sha fet una reputació a tot el món gràcies als seus fi lms danimació únics, als seus dibuixos al carbonet i a un seguit dinstal·lacions a gran escala compostes per imatges en moviment, so, música i objectes escultòrics.Enaquesta publicació, William Kentridge explica la gènesi de More Sweetly Play the Dance, obra que va realitzar per encàrrec de la Lichtsicht - Projection Biennale de Bad Rothen felde i lEye Filmmuseum dAmsterdam.En un text vívid, acompanyat per fotografies preses durant el taller que es va fer al seu estudi en el procés de producció, Kentridge ens permet acostar-nos duna manera única al rerefons, la preparació i lenregistrament de lobra. A linterior sinclou un desplegable en acordió de dos metres de llarg amb una imatge de la captivadora instal·lació de vuit pantalles del film More Sweetly Play the Dance.