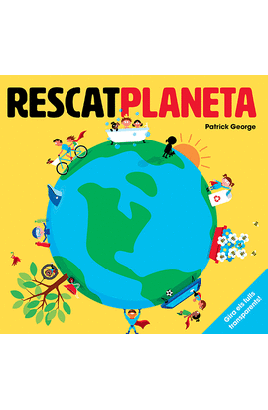 Add to favourites
RESCAT PLANETA
VAT included
For your convenience, you can request the collection of this copy at any of our physical stores. The information on availability in e-commerce does not imply the existence of physical stock in the store.
To check the stock in a physical store, you can contact any of our stores.
Status: Available for online purchase
Description
Residus plàstics? Contaminació? Estalvi d'energia? Com explicar-ho als nens i nenes? Aquest és un llibre de petits gestos, divertits i pràctics, que ajudaran a fer que el nostre món sigui un lloc més verd. Gira les pàgines transparents per a veure els beneficis de cada gest. Als nens i nenes els encanta poder actuar per a protegir i salvar el planeta! Rescat Planeta és un llibre magnífic per a qualsevol mestre, pare o organització mediambiental que vulgui ensenyar a les nenes i els nens a respectar el planeta i treballar c onjuntament per a crear un món més verd d'una manera interactiva i divertida. Comença amb una senzilla pregunta: què podem fer per a ajudar a salvar el planeta?, que respon en cada doble pàgina amb gestos que persegueixen aconseguir diferents objectius mediambient als, com mantenir l'aire net, l'aigua pura i abundant, les plantes i la vida silvestre pròspera o la sostenibilitat i la minimitzaci ó de residus. És un llibre ple d'il·lustracions clares i acolorides, amb infinitat de detalls divertits i una àmplia gamma de perso natges.