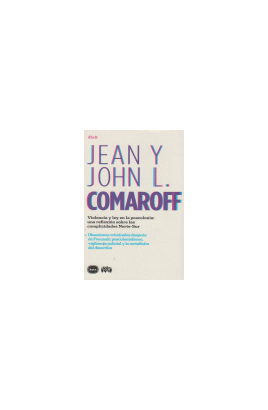 Add to favourites
VIOLENCIA Y LEY EN LA POSCOLONIA/ UNA REFLEXIÓN SOBRE LAS COMPLICIDADES NORTE
+ OBSESIONES CRIMINALES DESPUÉS DE FOUCAULT/ POSCOLONIALISMO, VIGILANCIA POLICIA
VAT included
Buy it now and we will send it to you when we have stock. The charge to your account will be made only when the product is shipped.
Status: Available for online purchase 4-5 days
Description
Violencia y ley en la poscolonia: una reflexión sobre las complicidades Norte-SurObsesiones criminales después de Foucault: poscolon ialismo, vigilancia policial y la metafísica del desorden Durante los últimos años, las descripciones de las naciones poscoloniales se han convertido en una terrorífica epopeya de anarquía y violencia, añadiendo un tono brutal a los arquetipos europeos de subdesarrollo, abyección y conflictos étnicos. [Sin embargo], las similitudes entre la poscolonia y el mundo que hay al otro lado son innegables. Y cada vez más numerosas. El Norte está evolucionand o hacia África. En todas partes la violencia criminal se ha convertido en un vehículo imaginativo, en un jeroglífico, para pensar en las pesadillas que amenazan a la nación.