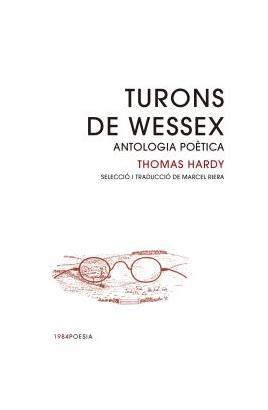 Add to favourites
TURONS DE WESSEX
ANTOLOGIA POÈTICA
VAT included
For your convenience, you can request the collection of this copy at any of our physical stores. The information on availability in e-commerce does not imply the existence of physical stock in the store.
To check the stock in a physical store, you can contact any of our stores.
Status: With stock
Description
En la seva obra lírica, Thomas Hardy parla d'un passat rural que s'esvaneix i de les dificultats del present, i ho fa des d'un punt de vista desinhibit i modern, lluny del romanticisme fins aleshores imperant i de l'encarcarament dels seus contemporanis victorians. Els protagonistes dels seus gairebé mil poemes són la gent corrent del seu comtat i Wessex és el vell nom saxó que recupera de l'o blit per anomenar aquest paisatge literari, inventat però gairebé real, de l'oest d'Anglaterra on situa les seves històries. Serà en l'escenari d'aquests turons que la seva visió del món i del destí dels homes, a través del geni poètic, agafa vida pròpia, pren vol ada i ens continua emocionant. Tot plegat un projecte literari, moral i estètic que el va convertir en una de les grans figures de l a lírica moderna i en el far que ha guiat alguns dels grans poetes de llengua anglesa del segle XX: Yeats, Brooke, Auden, Eliot, Fro st o Larkin.Thomas Hardy (Dorchester, Anglaterra, 1840-1928) és un dels grans escriptors anglesos de tots els temps, arquitecte de p rofessió. Va començar escrivint poesia de jove però es va descoratjar en no trobar editor. Després va publicar novel·les i narracion s que el van convertir en una personalitat literària, fet que li va permetre deixar l'arquitectura i viure al camp, lluny de Londres i la gent. Victorià crític amb les normes i creences de la seva època, la seva obra aprofundeix en el patiment humà i en la dificul tat per trobar esperança en la vida quotidiana. Cansat tant de l'èxit com de les crítiques rebudes a causa del realisme de les seves novel·les, als cinquanta-vuit anys va publicar el primer llibre de poesia i ja mai no retornà a la novel·la.